Angelique Etoile Prologue
Specs | Story | Cast | Playability | Troubleshooting | Pics | Review | Links
Specs
Company: Koei
Release Date: 3/2003
Price: 3,500 yen
Platform: Windows 98/Me/2000/XP
Minimum System Requirements:

CPU: Pentium II 400MHz (recommended Pentium III 600MHz)
RAM: 64MB (recommened 128MB)
HDD: 400MB free space
Video: 640x480 resolution or higher, high-color
Sound: 16-bit 44KHz WAV audio
Other: Requires CDROM and DirectX 8.1

Genre: Neo-Romance
Rating: All ages
Voice: Partial voice
Art/Scenerio: Kairi Yura

Story
The "Legendary Etoile" is chosen to save the cosmos of the Sacred Beast. This "Legendary Etoile" turns out to be the young girl Ange, who receives a letter stating that the amusement park Celestia is on the verge of opening, but is in trouble and needs her legendary power.
The letter turns out to be from the Queen's Aide Rachel, who brings Ange to the cosmos of the Sacred Beast. She asks that Ange use her power to help the amusement park Celestia safely open on the floating continent of Arcadia.
Encouraged by the Guardians, and with the help of the tutors and collaborators, Ange embarks to make Celestia have a spectacular grand opening.
Cast
Ange - Ange is a seventeen-year-old girl who is the new heroine, born as the Legendary Etoile. She is a strong and bright girl who is not discouraged by adverse circumstances. It is her job to explore the cosmos of the Sacred Bird, ruled by Queen Angelique Limoges, and the cosmos of the Sacred Beast, ruled by Queen Angelique Collet. She has a magical animal companion known as Tantin. Additional Information: Marfisa's Angelique.
Julious - Julious is 25-years-old and the Guardian of pride-providing Light. He has been a Guardian in the Cosmos of the Sacred Bird from the time he was 5-years-old to present, a total of twenty years. Therefore, he is very dedicated to the Cosmos of the Sacred Bird and Sanctuary, and works very hard at his job -- and has the same expectations of others, even those in the newer Cosmos of the Sacred Beast. Due to his harsh work ethic, he may act a bit severe when being visiting during the work week, but he is like a different person when away from his job; a highly considerable gentleman. Julious's calm and gracefulness are the main points to his charm. Seiyuu: Hayami Sho. Additional Information: Marfisa's Angelique.
Clavis - Clavis, also 25-years-old, is Guardian of peace-bringing Dark. He is the second Guardian to be summoned to the Sanctuary in the Cosmos of the Sacred Bird, only a year after Julious. However, his personality and tastes are completely opposite. Clavis comes off as being very indifferent and closed up, not wanting to open up to others. When it comes to the development of the Cosmos of the Sacred Beast, he will not offer help recklessly, but waits for the opportunity to help calmly. If Clavis is approached calmly, over time he will eventually open up with his feelings. Seiyuu: Tanaka Hideyuki. Additional Information: Marfisa's Angelique.
Randy - Randy is the 18-year-old Guardian of courage-bringing Wind in the Cosmos of the Sacred Bird. He is energetic and sporty, but a lot of his hot-headedness has been calmed down a bit, and he can occassionally even be caught reading books (something he picked up from Luva during the time of "Trois"). This has sparked a new curiosity in the youth, and he enjoys intellectual conversation that plays on this curiosity. He is still a very precocious person, and someone that can be depended upon day by day. Seiyuu: Kanna Nobutoshi. Additional Information: Marfisa's Angelique.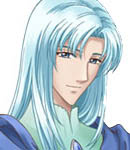 Lumiale - Lumiale is the 21-year-old Guardian of gentleness-bringing Water in the Cosmos of the Sacred Bird. He is a kind and gentle person, often seen with a smile, and it is easy to fall for his tenderness. However, he is a bit naive to the pains of the world, reveling a bit too deeply in his own delicate images of what the world should be. Because of his gentle nature, he shares his kindliness with everyone. Seiyuu: Tobita Nobuo. Additional Information: Marfisa's Angelique.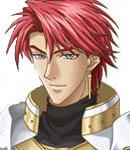 Oscar - Oscar is 22-years-old, and the Guardian of strength-bring Fire for the Cosmos of the Sacred Bird. Oscar is the knight-in-shining-armor playboy, looking for a "miss" to sweep off her feet. He is strong and devoted, and has no problems in helping to protect the new Cosmos of the Sacred Beast. Oscar's strength and devotion gives him a charm that makes it hard for the ladies to resist him. Seiyuu: Horiuchi Ken'yuu. Additional Information: Marfisa's Angelique.
Marcel - Marcel is 14-years-old and the youngest of the Guardians of the Cosmos of the Sacred Bird, preciding over bounty-bringing Green. Even though he is the youngest Guardian, even of those in the new Cosmos, with the birth of the Cosmos of the Sacred Beast, Marcel is now considered a "senior" Guardian when compared to the new Guardians, and as such he seems to take his duties a little more seriously than previously. A gentle and playful person, Marcel still feels a bit of uneasiness at this newfound responsibility. Marcel doesn't want his age to be an obsticle, and his desire to nurture and protect Ange should be gently accepted, and it won't take long to share in Marcel's over-abundance of happiness. Seiyuu: Yuuki Hiro. Additional Information: Marfisa's Angelique.
Zephel - Zephel is the rebellious 17-year-old Guardian of ingenuity-bringing Steel for the Cosmos of the Sacred Bird. Active, mouthy, and disobediant, patience is needed when dealing with Zephel. However, he does seem to be a bit more gentle now than he has been in the past, but it is something that seems to be hidden in his depths and not easily visible. Zephel has finally seemed to have gotten used to life in the Sanctuary, and he seems to be a little more respectful of others; now his rebellious spirit seems to aid his splendid individuality. Seiyuu: Iwata Mitsuo. Additional Information: Marfisa's Angelique.
Olivie - Olivie is 22-years-old, and is the Guardian of beauty-bringing Dream in the Cosmos of the Sacred Bird. Olivie is the true individualist in the Sanctuary, and everything from his tastes, opinions, and power seem on the strange side. While the cross-dressing Olivie may only seem interested in fashion and make-up, his tastes have become extremely varied over time, including taking up the lute, learning darts, and practicing his hand at the sword, hobbies he's likely picked up from the people around him. Always full of energy, Olivie is talkative and friendly, sharing his energy with others. Seiyuu: Koyasu Takehito. Additional Information: Marfisa's Angelique.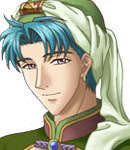 Luva - Luva, 26-years-old and oldest of the Guardians, is the Guardian of wisdom-providing Earth in the Cosmos of the Sacred Bird. He is well-liked by everyone in the Sanctuary, due to his kind personality and ability to deal well with problems and conflicts. Despite his good people skills, he seems to become shy around girls, something he's grown a bit better about over time. The scholarly Luva is sincere and kind, bearing a tranquil smile to those around him. Seiyuu: Seki Toshihiko. Additional Information: Marfisa's Angelique.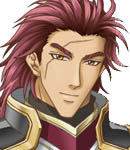 Victor - Victor is 34-years-old, and was the Instructor of Mind over the last Queen Examination, but is now the Guardian of Earth for the Cosmos of the Sacred Beast. Victor is a general of the Royal Expeditionary Force, considered by some an unsung hero. His knowledge from this role is expected to aid him greatly in his new position as a Guardian, but mentally even he is not completely prepared for the responsibilities and pressures of this new Cosmos. Standing strong despite pains from his past, Victor plans to do everything he can for the future of the new Cosmos. Seiyuu: Tachiki Fumihiko. Additional Information: Marfisa's Angelique.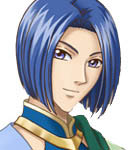 Sei-Lan - Sei-Lan is 22-years-old, and was previously the Instructor of Sense, but is now the Guardian of Green in the Cosmos of the Sacred Beast. Outwardly Sei-Lan is a bit cold and cynical, but inside he has a very loving and praising nature, but often art is his only way of expressing this. He takes life simply and inside has a very pure heart. Sei-Lan is interested in his new position as a Guardian as he sees using his power to develop the Cosmos like an artist putting paint on a canvas, and looks forward to seeing the Cosmos he helped create. Seiyuu: Iwanaga Tetsuya. Additional Information: Marfisa's Angelique.
Timka - Timka, 16-years-old, was previously the Instructor of Dignity, but is now Guardian of Water for the Cosmos of the Sacred Beast. The youngest of the Guardians in this Cosmos, he is ready for the responsibility, used to such as his position of being king on his home planet. Though despite this, Timka worries continuously about his own abilities, thinking his powers are not yet strong enough or developed well enough, and he tries extra hard. Beyond his own self doubts, he is a friendly person who is good at interacting with other people, always full of a gentle smile. Seiyuu: Kisaichi Atsushi. Additional Information: Marfisa's Angelique.
Ernst - Ernst is 30-years-old and was previously the Head of the Royal Research Institute, but is now the Guardian of Steel for the Cosmos of the Sacred Beast. From his previous position, he possessed great knowledge at watching the growth of the universe, and feels somewhat of a inner happiness at finally being a part of making it happen, even if he doesn't show it outwardly so much. Still the scholar at heart, Ernst is very cool-headed about his duties as a Guardian, often calculating too hard what may be the outcomes of his actions. Seiyuu: Morikawa Toshiyuki. Additional Information: Marfisa's Angelique.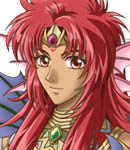 Mel - Mel is 18-years-old, previously a Fortune-Teller, and now Guardian of Dream in the Cosmos of the Sacred Beast. Mel has grown up fast due to being a member of the fire-dragon clan rather than a normal human being, and now the boy that was once younger than Timka is older. However, Mel still seems to have a bit of his precociousness at heart, and he is watched over by the other Guardians of this Cosmos. Feeling that he has grown up too fast, Mel is reminded to take his position as a Guardian slowly over the new universe. Seiyuu: Touma Yumi. Additional Information: Marfisa's Angelique.
Charlie - Charlie is 26-years-old, and was previously the "merchant" at the last Queen Examination, hiding his identity as the president of the largest corporation in the Cosmos. Now he is serving as the Guardian of Fire for the Cosmos of the Sacred Beast. Charlie is still full of energy, encouraging everyone with his bright smile. Having seen hardship in life, Charlie wants to make people happy, and sees his new position as a Guardian as a fate that is calling him to do just that. Always a businessman at heart, Charlie aims to please the new universe, the "customer" of the Guardians, with his power. Seiyuu: Madono Mitsuaki. Additional Information: Marfisa's Angelique.
Playability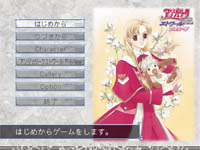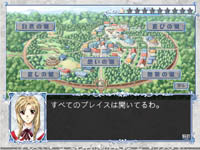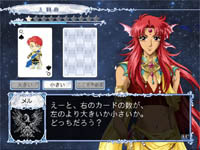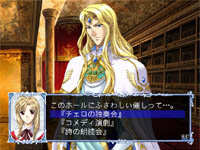 Angelique Etoile Prologue is named such for a reason; it is an introductory mini-game for Angelique Etoile which was released several months later. This game includes a mini dating game for the original nine Guardians, character bio sheets, some wallpaper, and a preview video to Angelique Etoile. One could think of it as a "fanbox" considering the material it contains.
While the extra goodies such as the preview movie and wallpapers need no explanation, the highlight of the disk is of course the small dating simulation game for the Guardians. In the game, Ange, the Legendary Etoile, is asked to use her power to help open an amusement park, Celestia, on the floating continent of Arcadia. You must gain power (shown in the form of a meter of ten possible stars), and open up the five different sections of the theme park, using four stars of power each.
Power is gained by playing a card game with the tutors and collaborators. In the card game, you first pick one of the characters to play with, and then a card is shown, with three buttons below it. The first button is "higher", the second is "lower", and the last is to convert your wins into stars. The point of the game is to predict if the next card will be higher or lower than the one shown. It goes for a total of ten rounds, but if you miss one, you have to start over. However, you can cash in your wins for a round for stars at any time; so if you win five times in a row, and don't want to gamble guessing the next card correctly, you can hit the third button and convert your wins to stars.
After you have opened the entire theme park, then you can ask one of the nine Guardians to go on a date with you at the four outer locations, costing one star per date. On these dates, you have to pick one of three response options (which are displayed randomly each time, so you can't just remember "Oh, it's not the first one!" as that option could be the third next time around), and the best answer will score you a point with that Guardian. You may have to replay an area and try again if you pick the wrong answer. After you have given all the best responses at these four locations, then you can date the Guardian at the center restuarant, and he will give you a gift, accompanied by a pretty CG.
It's a fairly simply game and doesn't take long to play through, and there aren't very many CGs, but that is somewhat the point; it is a mini-game designed to spark interest in Angelique Etoile. All in all, it's an incredibly cute and quick play, and very easy for someone with little to no ability with Japanese.
Troubleshooting
As far as technical issues, I found no problems playing Angelique Etoile Prologue on a Windows XP machine set into Japanese language. In fact, I found that you don't even have to install the game, as all that does is dump the entire contents of the CD onto your HDD; you can play the game .exe file right off the CDROM and save yourself the space! It will even still remember your progress even if you are playing right off the CDROM.
AGTH Compatibility - Angelique Etoile Prologue is NOT compatible with Anime Games Text Hooker.
Pics
Review
Admittedly, I've been an Angelique fan for a /long/ time... the old SNES ROM of Angelique was one of the first ren'ai (romance) games I'd ever played, and really launched me into the entire genre of girls' games (and subsequently boys' love games). Therefore, I can't help but like Angelique Etoile Prologue; it may be a small game, but it was just so darn cute!
Like pretty much everything that comes out of Koei's Neo-Romance line, Angelique Etoile Prologue has beautiful character designs, graphics, and voice. I was actually quite surprised to find that this mini-game included voice for the tutors, collaborators, and Guardians, and this was my first experience at hearing these characters voiced, so I was quite pleased. The art was vibrant, and even though there are only really nine CGs to collect in this game, they were astoundingly beautiful pictures.
However, the mini dating game really is the only true high-point of the disk; the wallpaper is pretty, but there are only eight images, and they are recycled art from CD covers and are a little too "white around the edges" for my taste (I like my wallpaper to be more filled graphically). The preview movie to Etoile is very short and its only highlight really was to show quick glimpses of the three new characters that would be featured in Etoile to make fans patiently await the full game release. The character bio section may be useful to a new-comer to Angelique, but most old fans of the series already know the information about the cast; it's really just there to show the new character designs for Etoile more than anything.
If you are an Angelique fan, you'll probably want this in your collection. If you are just starting to get an interest in Angelique, it may be worth checking out, but I'd probably suggest playing some of the older games first, get a feel for the cast, and then jump into Etoile, the newest incarnation in the Angelique universe. It is a mini-game, so you won't find a lot to do here, but what is offered is just so cute that Angelique fans and girls' game fans with even a slight interest should give it a play.
Links
Game City: Neoromance - The official site for Angelique, Harukanaru Toki no Naka de, and Kiniro no Corda.
Marfisa's Angelique (English) - A great site with information about anything and everything Angelique related.
---
Disclaimer: All written text and capture guides © Boys' Love Games Headquarters. All pictures and downloads are copyright of their respective companies and artists and are for promotional use only. I am in no way claiming the art as my own, nor am I trying to infringe upon the company's rights. I am trying to promote these games by allowing a foreign audience to see some artwork from the game.