Fragrance Tale Voice Collection
Specs | Story | Cast | Playability | Troubleshooting | Pics | Downloads | Review | Links
Specs
Company: TAKUYO
Release Date: 10/12/2001
Price: 4,800 yen
Platform: Windows 95/98/Me/2000/XP
Minimum System Requirements:

CPU: Pentium 200MHz
RAM: 32MB
HDD: 50MB free space
Video: 640x480 resolution or higher, 16-bit color
Sound: WAV/PCM audio
Other: Requires CDROM and DirectX 7 or higher

Genre: Multimedia
Rating: 15+
Voice: Full voice
Art: KxT
Scenerio: Karume

Story
In a system created by Gaea, three planets exist: Flaithis, akin to the Heavens, where the angels live, Annwn, akin to Hell, where the demons live, and the Earth-like Rirudahna which lies between the two. Flaithis and Annwn have been at war for many years, and it isn't any surprise that the peaceful Rirudahna, which falls between the two, would be drug into the battle.
A young boy, Liam, who is a student on Rirudahna, is visited by Lugh, the angelic ruler of Flaithis, to find fragrances and mix a perfume with the power to bring the holy forces and demonic forces together in mediation and thus bring peace, and Liam accepts this task. He is visited by angels from Flaithis that aid him in bringing him the scents of their homeland to help his quest, but the demons of Annwn also find out about this plot, and decide to work their own strategy against it, also visiting Liam and bringing him the fragrances of Annwn.
Can Liam create the peace-bringing legendary fragrance "Naveri"? Or will he instead find himself falling for one of his angelic or demonic visitors?
Cast
Liam - Liam is a human teenager who lives in Rirudahna, and attends school there. He is chosen by the leader of the angels, Ruu, to mix a fragrance using the herbs of Flaithis, Rirudahna, and Annwn to try to bring peace between the warring Flaithis and Annwn once and for all. He is a gentle person who gets scared easily and also isn't very assertive when it comes to arguments, but he is also full of curiosity and may take rash actions because of this. Whether he ends up bright and gentle or strangely stubborn depends on the paths taken by the player.Seiyuu: Minami Omi.
Addle - Addle is a twenty-year-old angel from Flaithis, and is the leader of Lugh's imperial guards. He is a noble-minded character who puts on a very serious front and won't tolerate injustice or unreasonableness. However, on the inside he is very passionate and has a serious romantic attitude towards love. Addle's chivalrous knight-like behavior can lead to a refreshing, romantic love. Seiyuu: Chiba Susumu.
Philyth - Philyth is a twenty-two-year-old angel and part of the imperial guards of Flaithis. Philyth is very quiet and noble-minded, an angel of feminine beauty. Although he appears very graceful, soft, and delicate, he also hides a playful side and will sometimes crack a smile or laugh when least expected. He is the type that offers a gentle and affectionate romance. Seiyuu: Itou Miki.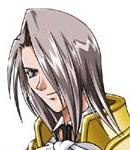 Solude - Solude is a twenty-four-year-old angel who is part of the imperial guard of Flaithis. He is a calm and generous person, who holds individual values which are unique for an angel. Inside he has a romanticist's passionate heart, but becomes clumsy or awkward when trying to express his feelings openly. Seiyuu: Inoue Kazuhiko.
Tim - Tim is a fifteen-year-old angel, also a member of the Flaithis imperial guard. Tim is very much a young and bright yet naive person, possessing the innocence of his age. He is very much the "good honor student" type: polite, respectable, and obedient. Romantically, Tim tends to be the submissive-type, but can take on a very caring, motherly love for the person he likes. Seiyuu: Seki Tomokazu.
Nadhew - Nadhew is a twenty-one-year-old demon from Annwn. Being a demon, he tends to be impolite, atrocious, and spontaneous, and takes pleasure in picking on others. He likes to see how far he can push people, and is extremely mischievous. When it comes to romance, Nadhew tends to equate love with power. Since he becomes clumsy with serious romantic love, he takes a more playful approach. Seiyuu: Seki Toshihiko.
Sittra - Sittra is a twenty-five-year-old demon from Annwn who is characterized as being very intellectual and voluptuous. He is a very elegant demon and takes pleasure in things he finds beautiful. When it comes to romance, he likes a balance of play and seriousness. Seiyuu: Hayami Sho.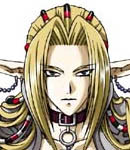 Claydle - Claydle is a twenty-three-year-old demon of Annwn. He is a very cold-blooded person and a sadist who enjoys blood. In addition, he also has strong destructive magic power, and because of such even other demons tend to keep their distance from him. He is not the type to take interest in romance; unless, of course, he finds himself a willing masochistic submissive... Seiyuu: Miki Shinichirou.
Roki - Roki is a sixteen-year-old demon of Annwn. He can be a violent and rough little brat, but there is something charming about him which makes him hard to dislike. He still carries the cruelty of a demon, but it is displayed in more of a child-like manner, and he finds it great fun to cause trouble. When it comes to romance, he is considered very cat-like; curious, playful, sometimes making the move, other times waiting for it. Seiyuu: Morikubo Shoutarou.
Playability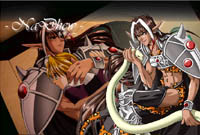 Fragrance Tale Voice Collection is the fanbox for Fragrance Tale. As such, it is a collection of computer goodies rather than an actual game.
All of the typical components of a fanbox are here: a gallery of the CGs from the game and some character sketches, a jukebox of all the game music, a set of screensavers (one per character, which cycles through their CG art), and a large collection of Windows voice clips from all the characters (54 per character, hense calling it the Fragrance Tale Voice Collection).
The game also has an "Omake" folder on the disk, where you get all the CGs as .jpgs and all the background music in .midi, webpage icons (I find the chibi character drawings on those banners rather adorable), some sound clips from the supporting characters that aren't on the main disk (the fairies, Lugh, and Cifer), postcard pictures, wallpaper in 640x480, 800x600, and 1024x768, and a few wallpapers from some of Takuyo's other early games.
Troubleshooting
As far as technical issues, I had no problems running the game using Windows XP with the language set to Japanese.
The game runs right off of the CDROM, so you don't have to worry about installing -- however, if you'd rather run off of your harddrive, then just copy all the contents of the CDROM to a folder on your harddrive and run the .exe from there.
Pics
Downloads
The following are available for download via IRC only. So please check out irc.irchighway.net #girlgames to download the following from my FServ:
-Fragrance Tale Postcards [1.22 MB] - A set of postcards from Fragrance Tale Voice Collection.
-Fragrance Tale Voice Collection Wallpaper (Available in 640x480 [2.54 MB], 800x600 [3.66 MB], and 1024x768 [5.73 MB]) - Official Fragrance Tale wallpaper from Fragrance Tale Voice Collection.
Review
As far as fanboxes go, Fragrance Tale Voice Collection is pretty basic in its content: Windows accessories for fans of Fragrance Tale.
The first thing on the fanbox that I took a look at was the Gallery, and I was happily pleased that it had all the CGs from the game, since they are so hard to capture in the real game (the original game doesn't even have a CG gallery, but a "Replay" gallery that just replays the scenes that have the CGs; you can't just get the art without having to play through those scenes again.) But then my hopes were squashed when I saw the Gallery had "Next", "Previous", ect. buttons as you browsed the pictures, which would make them pointless to screencap. At about the time I was going to curse over this, then I found they had just the CGs as .jpg images in the "Omake" folder. This is great -- it had all the CGs from the game (even those ones that in my opinion would be impossible to actually capture in the real game) and now you don't even have to screencap them, they were just there as .jpg files that you can copy to your harddrive. This was definitely a high point in the fanbox for me.
You can also play all the music from the game within the Fanbox, and it is also included in the "Omake" folder as .midi files that you can copy to your harddrive, though I never found the music in Fragrance Tale anything astounding. Of course the main feature of the Fanbox is the collection of sound clips for each character, hense calling it the Fragrance Tale Voice Collection. There are fifty-four sound clips for each main character (Liam, Addle, Solude, Philyth, Tim, Nadhew, Claydle, Sittra, and Roki). So if you are a big seiyuu fan, then you will probably definitely want to get ahold of this Fanbox, since the characters have quite an impressive cast of famous seiyuu. However, the voice clips aren't held as individual files on the game disk like the CGs and BGM are: You have to select a sound clip off the game and hit Install to load it on your system.
The downpart of the Fanbox for me was the lack of new art. The Gallery only had a few character sketch designs and the rest was just game CGs. The wallpaper, postcards, and screensavers only have the main character design picture of the character and art from the CGs. There were no new pictures for fans to enjoy.
If you are wanting the CGs from the original game, or are a big fan of any or all of the seiyuu featured in the game, then you will probably want to look into this fanbox. Otherwise you aren't really going to find anything much of interest on the Fragrance Tale Voice Collection.
Links
Takuyo's Official Fragrance Tale Site (Japanese) - The company's site with information on the game.
Prince of Darkness (Japanese) - A great fansite with fanart and doujinshi.
---
Disclaimer: All written text and capture guides © Boys' Love Games Headquarters. All pictures and downloads are copyright of their respective companies and artists and are for promotional use only. I am in no way claiming the art as my own, nor am I trying to infringe upon the company's rights. I am trying to promote these games by allowing a foreign audience to see some artwork from the game.