Gakuen Heaven ~Boy's Love Scramble!~ (School Heaven ~Boy's Love Scramble!~)
Specs | Story | Cast | Playability | Troubleshooting | Pics | Downloads | Review | Links
Specs
Company: Spray
Release Date: 8/2/2002
Price: 6,800 yen
Platform: Windows 95/98/2000/XP (Also a PS2 version by NEC Interchannel)
Minimum System Requirements:

CPU: Pentium 100MHz or higher
RAM: 32MB or higher
HDD: 700MB free space or more
Video: 640x480 resolution or higher, full-color
Sound: WAV/PCM audio
Other: Requires CDROM

Genre: ADV
Rating: 18+ (PC version) / CERO 15+ and CERO 18+ (PS2 version)
Voice: None (PC version) / Full voice (PS2 version)
Art: Higuri You
Scenerio: TAMAMI

Story
One day Keita Itou receives a letter of acceptance into Bell Liberty Highschool, a special boys' high school where only those with outstanding talents or abilities are admitted. Since he is a rather average person, he is really surprised at this news and excited to be able to attend the school.
When Keita arrives at the school, he runs into the "King" and "Queen" of the school, and is introduced to a variety of students, all with unique personalities and talents. But right after he has made friends and settled down into school life, things take a turn for the worse: Keita is informed that his admittance into the school was a mistake and he must withdraw from the school, because he has no special abilities and Bell Liberty is only for the most elite.
Determined to stay at Bell Liberty, Keita goes to meet the school Director, but he is apparently away on business, so he sends him an e-mail. He gets a reply in which the Director informs him that he believes his special ability is his amazing luck, and he will be given a chance to prove it.
The next day the school is assembled and told from the Director (through a mechanical bear, Kuma-chan, that he apparently left behind) that a contest will be held to determine the MVP of the school. All participants must compete in pairs, so taking a partner, Keita enters the competition, because by winning the MVP title he would prove his worth and get to stay in the school. But during the course of this competition, will he find another reason he wants to stay, to be with a special someone?
Cast
Itou Keita
Blood type: O
Birthday: May 5th
Zodiac Sign: Taurus
Height: 170 cm (5'7")

Itou Keita is an optimistic, friendly, and simple person who has amazingly good luck. He applies to Bell Liberty Highschool, an all-boys' school only for the most elite students, even though he has no special abilities, yet is still accepted, an example of his good fortune. When he is told he must withdraw from the school due to an admittance error on their part, he is determined to try his luck at the MVP battle. Seiyuu (PS2 Version Only): Fukuyama Jun.
Niwa Tetsuya
Blood type: B
Birthday: August 15th
Zodiac Sign: Leo
Height: 187 cm (6'2")

Niwa Tetsuya is the student council chairman and extremely popular at Bell Liberty, and has been nicknamed the "King" of the institution. He is a bit self-centered because of that, and often leaves council work Nakajima, the sub-chairman. He is a 3-dan in Judo, and as such is an excellent fighter and good strategist who never backs down from a fight in public. Seiyuu (PS2 Version Only): Konishi Katsuyuki.
Saionji Kaoru
Blood type: AB
Birthday: February 14th
Zodiac Sign: Aquarius
Height: 173 cm (5'8")

Saionji Kaoru is the student council treasurer, and is very much the opposite of Niwa: he is an intellectual genious, precocious, graceful, and physically weak, and considered the "Queen" of the school. He is also skilled in the art of controlling other people, and though a good decision-maker, often they are somewhat selfish. Shichijou acts as his assistant and they are childhood friends. Seiyuu (PS2 Version Only): Kamiya Hiroshi.
Endou Kazuki
Blood type: AB
Birthday: June 9th
Zodiac Sign: Gemini
Height: 178 cm (5'10")

Endou Kazuki is Keita's classmate. He is very caring of the students and friendly, and quick to make friends with Keita, showing him around the school and introducing him to the students. Because of his sociable nature, he usually knows all the rumors going around. It is not clear why he is a student at the school, and he keeps a lot about himself a mystery. Seiyuu (PS2 Version Only): Sakurai Takahiro.
Nakajima Hideaki
Blood type: A
Birthday: November 19th
Zodiac Sign: Scorpio
Height: 182 cm (6'0")

Nakajima Hideaki is the sub-chairman and secretary of the student council, after losing to Niwa for the chairman position. Though he is still chagrined at Niwa, since they both know each other's weaknesses, a balance is kept between them for now. He is very cold, scheming, devious, and brute, and because of these qualities can makes others a bit fearful, often thought of as a "doberman type". Seiyuu (PS2 Version Only): Morikawa Toshiyuki.
Shichijou Omi
Blood type: B
Birthday: September 7th
Zodiac Sign: Virgo
Height: 184 cm (6'0")

Shichijou Omi is Saionji's childhood friend and assistant, though he is treated more like a servent; yet he doesn't seem to mind since he likes Saionji so much. He is the type that is happy by making others happy, and enjoys interesting people and interesting events. He has a very mild manner, and though he will poke his head into disputes, he won't participate in them around others, unless it is in defense of Saionji. His special talent is in computers, and he is a good hacker. He is of mixed French, Japanese, and American heritage. Seiyuu (PS2 Version Only): Tsuboi Tomohiro.
Naruse Yukihiko
Blood type: O
Birthday: December 12th
Zodiac Sign: Sagittarius
Height: 183 cm (6'0")

Naruse Yukihiko is an extremely talent tennis player, but he has an even bigger reputation for being the #1 playboy in the school. A narcissist from Britain, he immediately takes a liking to Keita and proceeds to hit on him whenever he has the chance. But hiding beneath his various playful antics and recklessness toward winning hearts is a serious side. Seiyuu (PS2 Version Only): Miki Shinichirou.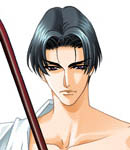 Shinomiya Kouji
Blood type: A
Birthday: January 1st
Zodiac Sign: Capricorn
Height: 178 cm (5'10")

Shinomiya Kouji is the son of a Shinto priest, and has many talents: he is the super-intendant of the dormitory, skilled in both literary and military arts, as well as cleaning and cooking, and is the school archery captain, having won the all-Japan boys archery championships, and he has plans to become a doctor. He has a very honest, reticent, and caring nature, but is also a bit over-serious with strict morals. Many get intimidated of socialing with him because he is so formal, but there are also those who sincerely trust him. He is friends with Iwai. Seiyuu (PS2 Version Only): Okiayu Ryoutarou.
Taki Shunsuke
Blood type: O
Birthday: April 1st
Zodiac Sign: Aries
Height: 167 cm (5'6")

Taki Shunsuke is an energetic and outgoing boy from Osaka who has no shyness around strangers. He's very talkative in rapid-speaking Kansai-ben, with a very simple, warm, and charming personality. He loves to eat, but is dissatisfied with the cafeteria at Bell Liberty, as his favorite foods are takoyaki and nikuyaki with cabbage. He is a cyclist that has placed third in the trial games of the world championships, and is often seen around campus on his bike making deliveries. He seems to have some mysterious ties with the Liberty Bell Sub-Director, and wants to win the MVP as bad as Keita. Seiyuu (PS2 Version Only): Suzumura Kenichi.
Iwai Takuto
Blood type: A
Birthday: March 3rd
Zodiac Sign: Pisces
Height: 176 cm (5'9")

Iwai Takuto is a precocious artistic genius who showed such talent in junior high, he was entered into Bell Liberty, and he is the director of the art department. He is very introverted, and doesn't really relate with others, spending most of his time putting all of his energy into his drawings and abstract paintings. He is also good at producing quick, prolific writings. He is a bit brooding and seems to have some emotional troubles as well, and his friend Shinomiya is very caring toward him. Seiyuu (PS2 Version Only): Nojima Hirofumi.
Umino Satoshi
Blood type: A
Birthday: July 20th
Zodiac Sign: Cancer
Height: 156 cm (5'1")

Umino Satoshi is the Biology teacher and advisor of the science department at Bell Liberty, and his lessons are very advanced, as he is specialized in bio-chemistry research. Though he is shouta-ish in appearance, he is actually 24 years old. He has a very spontaneous and energetic personality, and is usually with his cat, Tonosama. Even though he is a teacher, he is allowed to enter the MVP competition with the students. Seiyuu (PS2 Version Only): Kawakami Tomoko.
Playability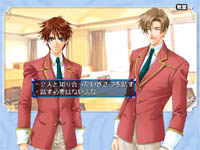 Like most ren'ai games, Gakuen Heaven follows the ADV format of following a story and viewing different storylines depending on the options you select.
The basic storyline of Gakuen Heaven is pretty simple, but the game features a large cast with ten characters, each with their own unique storylines, which makes it pretty entertaining. It is also a pretty diverse mix, with both fluffy boys' love and a healthy dose of angst. As long as you have a basic idea of the story (read the story description above), it isn't that hard to follow, and being an ADV, it's very easy to play since you are just matching options.
Gakuen Heaven isn't a very long game, but despite this, has lots of endings: there are ten winnable characters, and each character has 2-3 endings, and there are also some bonus scenerios you can win after completing certain scenerios and winning all the characters. The CG count is also pretty high for being an older and shorter game, with 73 CGs, illustrated by the famous boys' love mangaka Higuri You.
The game plays in 640x480 resolution, and can be set to either a full-screen or window mode. A right-click of the mouse brings up the game options, where you can save to one of the 100 available save slots, load, remove the boxes from the screen, toggle background music and sound effects levels, change the message board tones, and other basic options. The game also support the Ctrl-key fast-forward to skip through the game. It also has the option to change the name of the main character (Itou Keita) at the beginning of the game if you wish, but you must input the name using Japanese characters.
The Extras Mode has a CG gallery, a music gallery, a replay scene gallery, a staff page, and a characters page. The game also has two bonus scenerios that can be unlocked from the front screen: "HEAVEN", which is unlocked after completing the scenerios for some of the main characters, and "Omake", which is unlocked after winning all scenes in the game. Some of the CGs are captured in these extra modes, so it takes quite a bit of replaying to win all the characters to capture all the CGs.
Troubleshooting
I had no trouble installing and playing Gakuen Heaven on Windows XP with the default for non-unicode programs set to Japanese.
AGTH Compatibility - Gakuen Heaven is compatible with Anime Games Text Hooker. You must add the /ks and /kf parameters. Set game text speed to maximum for best efficiency.
Pics
Downloads
Gakuen Heaven Capture Guide - A capture guide in English made by myself for getting all the CGs in the game.
Gakuen Heaven Full CG Capture Save File - A save file that unlocks all the CGs in the game.
Review
When I decided to play Gakuen Heaven, my initial thought was that it was going to be one of those fluffy and shallow all-boys'-high-school-love-love kind of games. So I was pleasantly surprised to find out that there is more to Gakuen Heaven than this stereotype.
While the basic plot of the story seemed simple enough, because the game has a large cast (ten winnable characters), each character has their own unique story to follow, and they are very interesting, and often downright angsty, which is great for me, as I love a healthy dose of angst in story plots, rather than just fluffy-love. Not that there wasn't any of that either, but it was pulled off in a way that was really more cute than cliche, so I found the story of the game very good despite seeming very basic. The only bad part is that some of the scenerios are a bit confusing, while others are pretty easy to follow based on the CGs, but leave you just dying to know the details. When I have more time, I'll have to pull out Oh! Text Hooker and Atlas translation software and see if I can't get some details on some of my favorite characters' stories.
The art in Gakuen Heaven is gorgeous, but then again, I always have liked Higuri You's artwork. The CG count for the game was also very good, totalling at 73 vibrant CGs. Most of the CGs are plotful and are helpful to those that can't read Japanese to follow along with what is happening. As for the adult CGs, there isn't a huge amount, about one scene (occassionally two) per character, and they aren't extremely explicit: the game doesn't even need to use mosaic in most cases because the images are drawn in such a way that they are not needed. Those only interested in games with lots of sex would probably be disappointed, since there aren't a lot of sex scenes and the CGs are drawn in a more non-explicit style. My only complaint with the CGs is that some characters had a lot more CGs than others, and it would've been nice if there were a few more for those characters with a lower CG count. But I still found the CG count impressive for the game being an older title, as often older games have much smaller CG counts due to their sizes.
One of my favorite things about the game was that it had such a large cast of winnable characters (though it is disheartening that they are only voiced on the PS2 version and not in the PC version). This is what gave the story its flavor, as well as gave the game lots of endings, as each character had at least two, some with more. And all those endings of course means lots of replay value. The game also has tons of save slots with a count of 100, and you can save any time, so this can also help speed replaying up. The game also gives you some bonus scenerios when meeting certain requirements, encouraging the need to play all scenerios further.
The playability of Gakuen Heaven is straight-forward ADV, but a bit picky with the options, and as such you pretty much have to start each character capture from the beginning of the game and make sure you follow carefully. I noticed on certain characters in my game, I never got an option that was on all the Japanese guides, and still can't figure out why this is (though thankfully it did not affect capture), but in any event, it made creating a capture guide more difficult. Resourceful use of Save and Load is a lifesaver for getting multiple endings on one path without having to play the entire path over again. And if you are planning on going for full capture, be prepared to plant your hand on the Ctrl-key, cause it will get pretty repetitious fast (especially through the first half of the game).
Gakuen Heaven is a good choice for a boys' love game that is straight-forward to play and for the most part not too hard to follow plotwise, with a good mix of cutesy boys' love and angst. It also has a large cast, so there should be at least one character to appeal to everyone's different tastes, and it makes for lots of story scenerios, endings, and CGs. It has great art which does a good job of showing the story, and the style of showing sex without really "showing" anything due to the way the images are drawn make this game a good choice for gamers that play mainly non-adult boys' love games that are interested into stepping into something more adult. Considered more of a "classic" among boys' love games, it is definitely worth a play.
Links
Spray's Official Gakuen Heaven (PC Version) Site (Japanese) - The company's site with information on the game.
TIARA (Japanese) - Personal website of You Higuri, artist of Gakuen Heaven.
TAMAMI no Su (Japanese) - Personal website of TAMAMI, writer of Gakuen Heaven.
Half Adder's Gakuen Heaven Capture Guide (Japanese) - A complete capture guide for getting all the endings in Gakuen Heaven.
Akaebaku's Gakuen Heaven Capture Guide (Japanese) - Another good capture guide for Gakuen Heaven.
HEAVEN Ring (Japanese) - Official Japanese Gakuen Heaven webring.
---
Disclaimer: All written text and capture guides © Boys' Love Games Headquarters. All pictures and downloads are copyright of their respective companies and artists and are for promotional use only. I am in no way claiming the art as my own, nor am I trying to infringe upon the company's rights. I am trying to promote these games by allowing a foreign audience to see some artwork from the game.