Mori no Kioku (Memory of the Forest)
Specs | Story | Cast | Playability | Troubleshooting | Pics | Downloads | Review | Links
Specs
Company: Marine Heart
Release Date: 5/31/2002
Price: 6,800 yen
Platform: Windows 95/98/Me/2000/XP
Minimum System Requirements:

CPU: Pentium 300MHz
RAM: 64MB
HDD: 430MB free space
Video: 800x600 resolution or higher
Sound: WAV/PCM audio
Other: Requires CDROM and DirectX 7.0

Genre: ADV
Rating: 18+
Voice: None
Art: RENO
Scenerio: Unknown

Story
Takumi and Jun are two students who find an abandoned bomb shelter in the forest behind their school, a secret they keep between them. One day they hear, noise, and upon investigation find a secret lab within the shelter, and a young boy, Tsukasa, being held prisoner there. They decide to try to free Tsukasa and try to solve who is responsible for his kidnapping. They suspect it is someone within their school that knows about the place, and decide to hide out at the school at night to see if they can find their answers...
Cast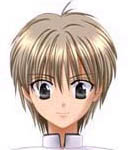 Asahina Takumi - Takumi is the main character of the story. He is a very curious person with a strong sense of justice, and he enjoys "playing detective," though he isn't always very good at it. He is very kind and takes a very "older brother" approach to people. He is also very innocent when it comes to sex.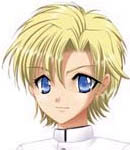 Jun Afleck - Jun is half-Japanese, half-American, inheriting his blond hair from his mother. He previously lived in America for three years, but now he is the next door neighbor and best friend of Takumi, who taught him Japanese. He likes Takumi very much, and is rather touchy with Takumi, and hugging or kissing is a daily occurance between the friends, and innocent Takumi doesn't seem to mind too much.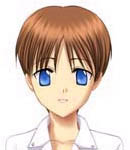 Konno Tsukasa - Tsukasa is the son and only-child of the president of the large Konno business conglomerate. One day when his parents were gone he was kidnapped, and is now kept confined in the bomb shelter in the forest behind the school, being used as a sex object by his kidnappers.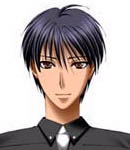 Oohira Toshiya - Oohira is Takumi and Jun's teacher at school. He seems to have some sort of relationship with Tsushima, and the two of them seem to be up to something...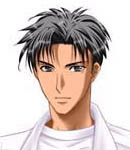 Tsushima Seiji - Tsushima is the school doctor at Takumi and Jun's school. He has a relationship with Oohira, which seems to be linked back to their school days. Whether he wants the relationship or is using Oohira for no good is a different matter...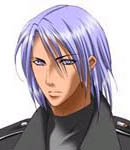 Yamamoto Masahiko - The former manager of the Konno conglomerate. He is out to try to find Tsukasa.
Playability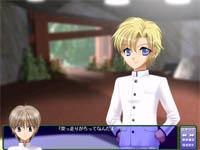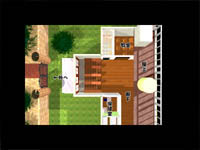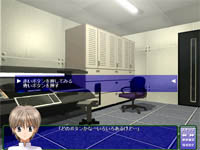 Mori no Kioku plays like most boys' love games, in that you follow a story and have to make choices that can change the outcome of the story in different places. However, it also has some other aspects of its gameplay that is a bit more unique: having to search for and use items to progress the story.
The game has two different kinds of screens: story advancement screens, where you talk with characters or make option selections, or a map screen, in which you move around to different places on the school campus. After moving to a room, you will get a bar with a magnifying glass icon which lets you search the room for items, a footstep icon which lets you go back to the map and move to a different room, and then the items you have collected will also be displayed on the bar, and you can chose one to try to use it in that room. Sometimes using an item in a location will allow you to gain a new item that you need.
This item collecting may sound difficult, especially for non-Japanese-readers, but it is actually pretty simple. You can search rooms as often as you like, and if you try and item and it doesn't do anything, there are no negative consequences (it stays in your inventory). So just move around and try everything until you can progress. It's actually much easier than it sounds.
The game is a bit short, as you go through story screens and item-collecting (used to progress the story) in a period of eight days within the game, which go rather quick. Along the way you collect CGs, most of which are rather hardcore yaoi sex scenes, featuring shouta. There are a total of 45 CGs and about six endings, three of which are considered "bad" endings. There is a Skip feature, and you can also save on the screens where different options are displayed, so quickly replaying the game searching for CGs is quick and easy; despite this, though, there are still seven that elude me no matter what options I try...
Troubleshooting
As far as technical issues, I had no problems at all playing this game using Windows XP set to Japanese language.
AGTH Compatibility - Mori no Kioku is compatible with Anime Games Text Hooker. You must add the parameters /HS4*0@40CAAC /kf /w4077D7. When you first load the game, go into Options, and on the second option listed (which is the option for message text speed), change the check from the middle selection to the left selection to change the speed to maximum. This is required, and you must do this each time you load the game, it does not save this setting when you exit the game. Very short lines may be copied twice, but this does not cause any translation problems. Be aware that with Marine Heart games, the text advances whenever you click the mouse, even when the game window is not active. Therefore, if you want to copy a sentence directly from the AGTH window, you will need to right-click in the game window to go to the options screen, and then scroll back up in the AGTH window to find the text you wish to copy. Otherwise, trying to click on the AGTH window (or any window on your computer for that matter) will just advance the text in the game.
Pics
Downloads
Mori no Kioku Capture Guide - A capture guide in English made by myself for getting most of the CGs in the game. Note that this guide does not show how to get 100% capture; even among all the Japanese capture guides, none of them have directions for full capture, so the guide is missing 7 CGs.
Mori no Kioku Full CG Capture Save File - A save file that unlocks all the CGs in the game.
Review
Mori no Kioku, like many of the games produced by Marine Heart, can't be considered one of the best boys' love games out there, but those that are fans of shouta yaoi then this certainly isn't one to avoid.
Mori no Kioku as a few nice things about it; for one, the CGs are a must for those that like shouta yaoi, yaoi which features younger boys, which can sometimes be harder to find. If you don't like shouta, then by all means, I'd pass this game up. Some other nice aspects are that the game is a little more interactive than other boys' love games due to the item system, which gives you a little more to do than just go through story text, look at CGs, and pick options. It also has a CG gallery that keeps track of your won graphics, a skip feature, and the ability to save on option screens, all of which are handy for the non-Japanese-speaker trying to play through the game quickly.
However, the game also has quite a few flaws. For one, it is very short and doesn't have that many CGs (although of the CGs it does have, they are pretty high quality yaoi images). For another, even to those that can't read Japanese (like me), it is easy to tell that the storyline is pretty bad (and I've had this confirmed by a friend who can read Japanese). It also feels very repetitious: there seems to be only one fixed path for items, and several options in the story, while displayed, you can't select. What is the point in giving multiple options if you /have/ to pick a certain one? Therefore, replaying the game is very tedious and boring. Not to mention some of those CGs seem to be very well hidden: I have yet to find out how to end the game with the two main characters, Takumi and Jun. Even looking at Japanese capture guides, no one has the solution to getting this couple. I finally had to go into the game directory and rename files into .png to find those missing graphics, frusterated after playing through several times, trying all the options, and /still/ not being able to figure out how to get this ending.
Overall, Mori no Kioku is an okay game, but don't expect anything spectacular. If you are an avid boys' love game fan, or a fan of shouta yaoi, I'd definitely suggest this game. If you are more picky with your boys' love games and prefer to only play the best games out there, then I'd say to go ahead and skip this one over.
Links
Marine Hearts's Official Mori no Kioku Site (Japanese) - The company's site with information on the game.
Kouryakuno Yakata's Mori no Kioku Capture Guide (Japanese) - Has capture information for a few of the endings, but is not complete, missing the Takumi x Jun ending and a few others.
Jete Veux's Mori no Kioku Capture Guide (Japanese) - Has capture information for a few of the endings, but it is missing the Takumi x Jun ending.
PC Yaoi Games' Shounentachi no Byoutou Review (English) - Some information and character images to Mori no Kioku.
#Yaoiforever's Mori no Kioku Page (English) - Has several CGs to Mori no Kioku.
---
Disclaimer: All written text and capture guides © Boys' Love Games Headquarters. All pictures and downloads are copyright of their respective companies and artists and are for promotional use only. I am in no way claiming the art as my own, nor am I trying to infringe upon the company's rights. I am trying to promote these games by allowing a foreign audience to see some artwork from the game.